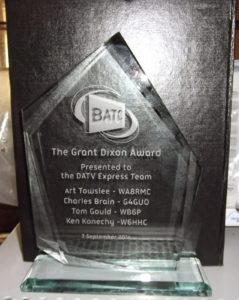 The Grant Dixon Award was established in 1983 to mark the retirement of Grant Dixon G8CGK from the BATC Committee after more than 30 years in office (see CQ-TV 121 p39).
The award was originally intended to be presented at the BGM to the author of the best article to have been submitted for publication in CQ-TV during the previous 2 years.
In more recent years it has been awarded to individuals or project teams who are judged by the BATC committee, to have contributed significantly to the development of the ATV community.
Previous winners include:
2022 Brian Summers G8GQS for outstanding service to the BATC over the last 50 years.
2020 Heather M0HMO for her creation of the open-source LongMynd DATV receiver.
2018 Dave Crump G8GKQ for his outstanding work in bringing the Portsdown project to fruition.
2016  The  MiniTiouner project team: Jean-Pierre Courjaud F6DZP, Brian Jordan G4EWJ, Colin Watts G4KLB.

2014   The DATV Express Team:  Art Towslee, WA8RMC,  Charles Brain G4GUO, Tom Gould WB6P and Ken Konechy W6HHC.
2012  The DigiLite Team:  Brian Jordan G4EWJ, Robert Swinbank M0DTS, Malcolm Johnson G0UHY and David Kenward G8AJN.
2010  Dicky Howett for his contributions to CQ-TV.
2008  Chris Smith G1FEF
2006  John Lawrence GW3JGA for the "Circuit Notebook" Series in CQ-TV.
2004  Ian Pawson
2002  Mike Cox