CAT meetings
The BATC organises conventions known as CAT (Convention for Amateur Television) at locations around the UK.
CAT 20 will be held on Saturday 24 October 2020 .  Due to COVID 19, it will now be an online and on-air event.
The interactive parts of the meeting will use Zoom, and all lectures will be streamed on the BATC Streamer with the opportunity for questions.  The programme is published here and on the BATC Forum.
Members should register for the event here: https://batc.org.uk/members-2/cat20-registration/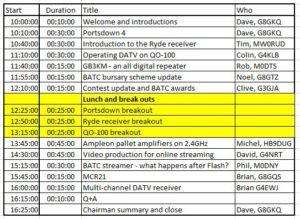 2000 Special QO-100 ATV Net for CAT 20 (to be streamed as well)
More details at https://forum.batc.org.uk/viewforum.php?f=128
We hope to return to the Midland Air Museum in Coventry http://www.midlandairmuseum.co.uk/ for a meeting in 2021.
Previous events
Details of previous CATs, including presentations and videos of the event can be found on the batc wiki pages:
CAT19 Didcot: https://wiki.batc.org.uk/CAT_19_South
CAT19 Finningley: https://wiki.batc.org.uk/CAT_19_Finningley
CAT18 and the BATC General Meeting was held at the Midland Air Museum on the weekend of September 15th and 16th 2018 – https://wiki.batc.org.uk/CAT_18
CAT17 was held at Finningley Radio club – https://wiki.batc.tv/CAT_17
The 2016 Convention for Amateur TV was held at the RAF Museum Cosford – https://wiki.batc.tv/Presentations_from_CAT_16
Videos from previous CATs can be found on the BATC Youtube channel – https://www.youtube.com/channel/UCUWLnUZllytlcCFd93tnBzw
Rallies

BATC also attends various radio rallies around the country with the BATC shop and Portsdown Clinic.
Full details of these events are posted on the BATC forum
A full list of rallies in the UK can be found on the RSGB website.